Hey everyone! Today I'm excited to share with you a bit about SCYTHE by Neal Shusterman, the first book in the Arc of a Scythe series and its upcoming sequel, THUNDERHEAD, which goes on sale on January 9th! This is a YA Dystopian series about a future where humanity has overcome everything, including death, so Scythes are the only people that can end life and control population! Isn't that fascinatingly creepy?!? Read more about it below and check out the awesome video where Booktubers rave about SCYTHE. Enjoy!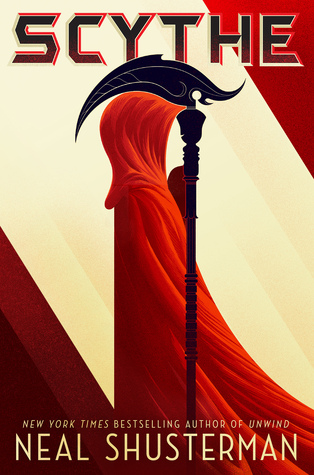 Scythe by Neal Shusterman
(Arc of a Scythe #1)
November 22nd, 2016 /
YA Dystopian
from Simon Schuster Books for Young Readers
Thou shalt kill.





A world with no hunger, no disease, no war, no misery. Humanity has conquered all those things, and has even conquered death. Now scythes are the only ones who can end life—and they are commanded to do so, in order to keep the size of the population under control.





Citra and Rowan are chosen to apprentice to a scythe—a role that neither wants. These teens must master the "art" of taking life, knowing that the consequence of failure could mean losing their own.
...Preorder Thunderhead!...
There are three major twists you won't see coming...
There are some things the Thunderhead was never supposed to know and when it finds out, it gets very angry...
Some characters who died in SCYTHE won't stay dead...
Readers say that Thunderhead is even better than Scythe...
Thunderhead already has starred reviews from Kirkus, Booklist and publisher's weekly...
And in addition to the characters readers already know, there are some brand new characters that you'll love to hate!
About Neal Shusterman
Neal Shusterman is the New York Times bestselling author of more than thirty award-winning books for children, teens, and adults, including The Unwind Dystology, The Skinjacker trilogy, Downsiders, and Challenger Deep, which won the National Book Award. Scythe, the first book in his newest series Arc of a Scythe, is a Michael L. Printz Honor Book. He also writes screenplays for motion pictures and television shows. The father of four children, Neal lives in California. Visit him at Storyman.com and Facebook.com/NealShusterman.