Hi everyone! Welcome to another post of CLASSIC FRIDAYS, a brand new weekly meme created by the wonderful Team Gray members of BBCP (Book Blogger Creativity Project).
What is Classic Fridays? A set of questions that can be answered about any book/series. A topic will be chosen every week and with each topic, there will be a set of questions.
These topics will range from your TBR to Current Reads and everything bookish in-between! For more info about this meme and future topics, you can visit this page. You can also sign-up to receive next week's topic HERE.
... September Releases...
Which book are you most excited for this month?
Even though I already read it, I'm extremely excited for the release of Stalking Jack the Ripper by Kerri Maniscalco. This book is GLORIOUS and hands down my favorite read of 2016.
Why are you looking forward to this book?
Because it's amazing and dark and bloody and gosh, THOMAS. *SWOONS* I just want to have it in my hands so I can hug it and read it again!
What book challenges are you participating in?
I joined a bookstagram challenge called #Falloutofsummer16. It's a fun challenge with great daily prompts. It's the first challenge we've ever joined on IG and we are having a blast so far. Hopefully we'll have physical September new releases so we can include them in our bookish pics.
How many books do you want to read this month?
I plan on reading 8 physical books + 3 eARCs. My sister plans on 6 books.
Did you preorder any September release or do you prefer to buy them on release day?
Yes! I preordered Stalking Jack the Ripper by Kerri Maniscalco and Three Dark Crowns by Kendare Blake. ♥
Which September release has the prettiest cover?
Oh, this one is hard. I ADORE SJTR's cover, but I have to admit that I am smitten by A Shadow Bright and Burning's cover. It's so pretty and ♥!!!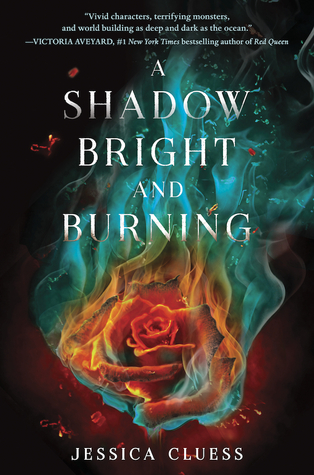 How many September releases have you already read?
I think just one... Stalking Jack the Ripper but I plan on reading at least 3 more.
If you could get 5 new releases right now, which ones would you pick?
A Shadow Bright and Burning by Jessica Clues
The Reader by Traci Chee
Three Dark Crowns by Kendare Blake
Frost Like Night by Sara Raasch
Vassa in the Night by Sarah Porter



Were any of these books recommended to you by anyone? Who? All of them are recs from friends on twitter. Everywhere I look people are raving about them and I just know I need to read them soon!
Don't forget to leave me a link to your Classic Fridays post if you participate! ♥