Title:

The Cilantro In Apple Pie
Author:

Kimberley Nadine Knights
Publisher:
Ravenswood Publishing
Source:
From author in exchange of my honest opinion
Goodreads
|
Amazon
Book Summary:
Fragnut. Confused? Well so is everyone else at Lumiere Hall Prep when sixteen-year-old Rubie Keane rolls in from Trinidad and Tobago talking her weird lingo. Not that she minds the culture confusion; she's determined to leave the past behind her and be overlooked—but a certain stoic blue blood is equally as determined to foil her plans.




Gil Stromeyer's offbeat personality initially makes Rubie second-guess his sanity, but she suspects his erratic outbursts of violence mask a deeper issue in his troubled, charmed life. Despite his disturbing behavior, a gradual bond forms between the two. However, on the night of the annual Stromeyer gala, events unfold that leave Rubie stripped of her dignity and kick Gil's already fragile world off its axis.




Both their well-kept secrets are uncovered, but Gil's revelation proves that sometimes the best remedy for a bad case of lost identity, is a dash of comradery from an ally packed with flavor.




This book. This BOOK. I adored it.
It's been a while since I've read a book that has made me fall completely for the male lead character. Actually, I loved all of the characters, including the MC Rubie, but Gil Stromeyer just happens to be my very favorite. I simply couldn't put the book down and at the same time, I didn't want to finish and I found myself delaying the inevitable end as much as I could.
It has a great storyline. I was completely hooked the moment I started reading it. It has great content and I don't remember ever getting bored while reading. Even though this story has some dramatic/heavy themes, the author still manages to bring humor and lightness to it. Also, I love the way the author kept the story entertaining and doesn't drag out moments.




Gil Stromeyer. Tall, gorgeous, smart, icy blue eyes, thrilling personality ... need I say more?




The characters were wonderful! I felt them so real while I was reading this book. I particularly enjoyed reading about the three Stromeyer brothers since they have very different personalities and unique ways of living that made them so interesting.




I loved the settings of this story. I can totally picture the town in which Rubie lives. It seems like if it were made up by the author, but I have come across some towns like "name", charming and all, which made it so much the easier to imagine. One of my favorite parts was the Halloween festival that the town celebrated because it was so enchanting (to me).




Another thing that I believe is important to mention is that this is not a romance book. Oddly enough, it worked well without and I love it this way. Even though that at first I thought it had potential of being a love story, the plot changed course before something like that could happen.
This is what I didn't like:
NADA. There wasn't a single part in The Cilantro in Apple Pie that I didn't love. I have no negative comments. I truly enjoyed reading this book and I highly recommend it. This is the kind of story that I am extremely fond of and wished everyone picked up to see how amazing it is. Enough said.
NOW CHECK OUT OUR APPLE PIE!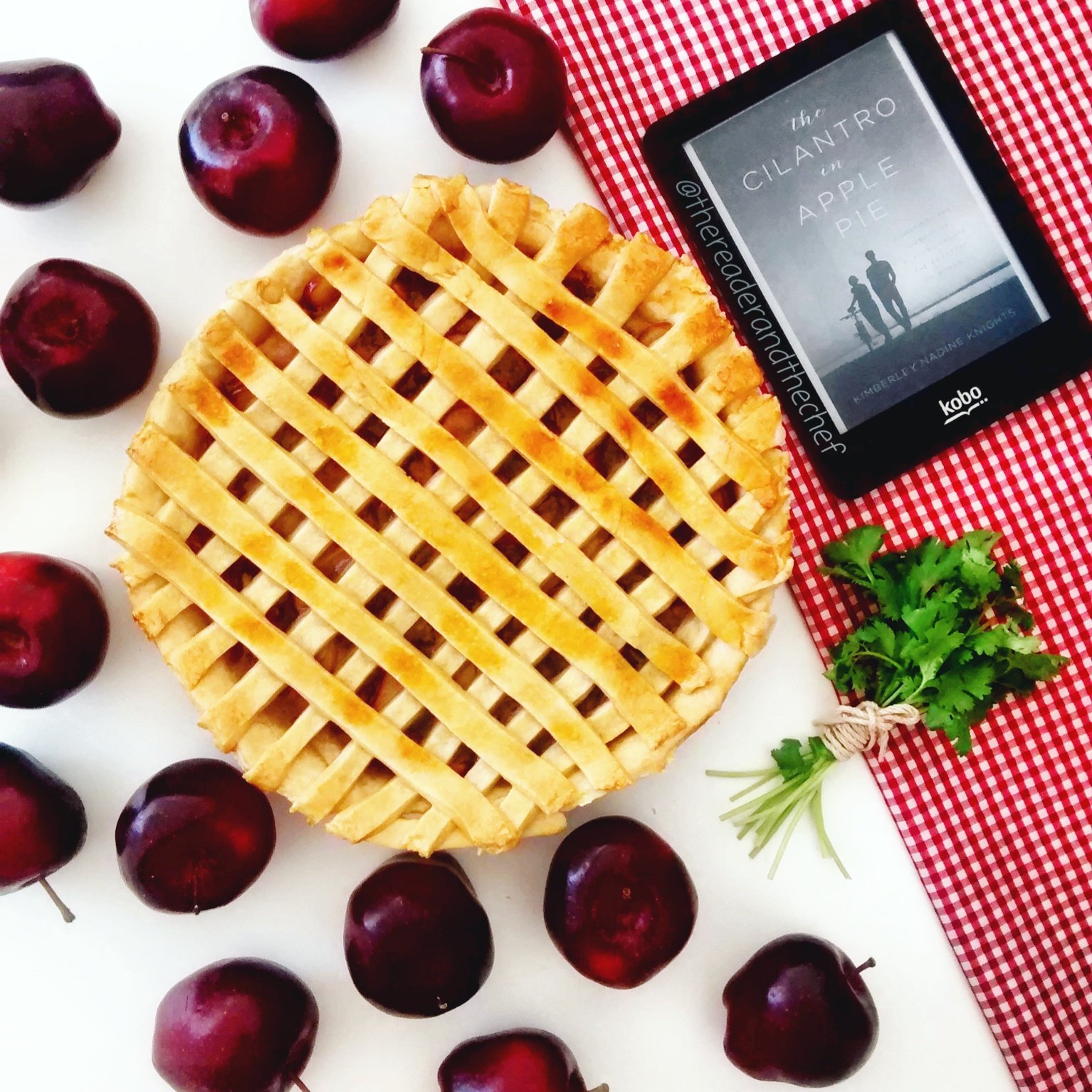 ♥