Guys, I never thought I'd say this but I *think* I'm in a book blogging slump.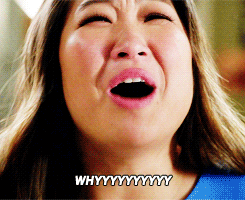 Like, I start writing something and I can't bring myself to finish a single post. And as a result, I have a gazillion drafts (okay, maybe around 7 in total) but STILL, it sucks.

I want to blog, yet I don't feel like blogging.

Um, whut?
I've felt so uninspired lately that I've barely posted in the last few weeks. I sort of feel like blaming my latest reading slump (which I believe it's finally coming to an end since I've read two pretty great books in the last few days). Could it be? Hmmm...
Maybe I should read more books non-stop till the point of being full of goody bookish feels. What do you guys think? I'm starting to like this idea...
Or maybe I should start joining a few bookish memes? I used to do one, but I sort of fell out of it since the hosts stopped making it a weekly thing. But then again, I don't want to fill up my blog with memes just for the sake of posting. I just want to have fun writing blog posts! Is that too much to ask? *cries*
I love book blogging, it makes me happy, and I'm definitely going through a weird phase right now but I need to get over this like, NOW.
Have you ever gone through a book blogging slump? Any tips for this uninspired soul? Cookies? I could always use hugs and cookies!