Hi everyone! Welcome to another edition of The Week's Entrée!
Guess what guess what guess what!!!! I just can't contain myself from sharing with you the epic news I got last week. It's sort of silly, but I won 26 books. TWENTY-SIX. From Maximum Pop Books' Massive YA Giveaway. When I received the news I was working and I was so busy I had to swallow my excitement, basically looking like this:
But internally, I was so like: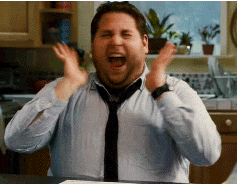 I still can hardly believe it. Won't believe it until they arrive. I don't know when, but I hope they get here safely. ♥
My new book!
To Read This Week:
This week I WILL read The Island. I said I was going to read it last week but I didn't get around to reading this weekend. Boo. After The Island, I will read Into the Dim!
*****
And that's it for The Week's Entrée! What are you reading right now? :)