Genre:

YA Fantasy
Publisher: Silver Wing Press
Published:
August 27th, 2015
Summary:
A library apprentice, a sorcerer prince, and an unbreakable magic bond...




The Solaris Empire is one conquest away from uniting the continent, and the rare elemental magic sleeping in seventeen-year-old library apprentice Vhalla Yarl could shift the tides of war.




Vhalla has always been taught to fear the Tower of Sorcerers, a mysterious magic society, and has been happy in her quiet world of books. But after she unknowingly saves the life of one of the most powerful sorcerers of them all—the Crown Prince Aldrik—she finds herself enticed into his world. Now she must decide her future: Embrace her sorcery and leave the life she's known, or eradicate her magic and remain as she's always been. And with powerful forces lurking in the shadows, Vhalla's indecision could cost her more than she ever imagined.
*The Reader's Review*
My rating: 5/5 stars
Lovely readers! This book is a MUST. A MUST I TELL YAH! If you love magic and princes and action and libraries and romance and amazing characters, then this book will no doubt be your next favorite read. I just love how it has everything I LOVE and then more. It's such a fantastic read and everyone who has read Air Awakens will surely back me up on this.
Air Awakens gives us one strong heroine who starts off as a library apprentice but isn't aware of her true abilities. I really liked that when the time comes to discover who she truly is, Vhalla has a hard time accepting like any normal person would (except us fantasy lovers who would say YES in a heartbeat LOL). She questions and researches, weighs in the pros and cons of leaving the "normal" life she thought she would lead working at the castle's library to the vast unknown as a sorcerer. Such a wise thing to do, kudos to Vhalla!
But guys, I HAVE A NEW PRINCE BOYFRIEND. His name is Aldrik and he's haaaaaaawt. He's tall, dark, and handsome, with black hair and one infuriating personality. Just how I like them. Aldrik is one interesting character and I think you all will love him. ♥♥♥
NOW LET'S TALK ABOUT ROMANCE.
Haha, couldn't hold it in any longer. I LOVE Air Awakens for several reasons, but I think the romance has got to be one of the main reasons (it having book princes being the top thing!). I ADORE books with slow-burn romance. I seriously dig the anticipation and almost kisses and those heart-stopping moments.
Me in those times when Aldrik and Vhalla were practicing magic: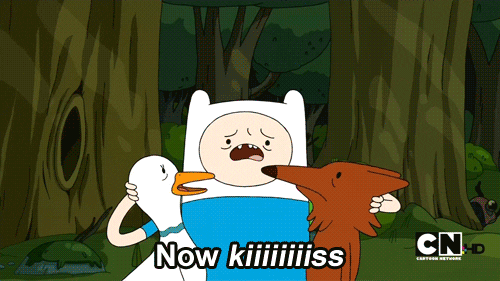 ME IN THAT SCENE AFTER THE BALL/PARTY:
And me basically every other time:
I LOVED IT. I high five Elise Kova for how she played with my heart. Not only with the romance, but with the rest of the things that happen in this book. Some things made me shake my fist at the book, at the sky, at my serious masochistic tendencies of loving books that end up messing with my feels and so on.
There's lots more to talk about Air Awakens but I'll let you see that for yourself when you read this amazing debut. You'll want to read the sequel as soon as your done with it and the following books which you won't have to wait long for since Elise Kova is amazing and releases them pretty quickly (like 3 months apart each). YAY!
Now go read and meet my new love! Meanwhile, I'm off to read Fire Falling (book two)! ♥